Viva Mexico - where to begin?
It seems like a distant memory already, with my tan fading and my stress levels climbing, although it has been only 2 1/2 weeks.
I suppose the best way to give you a conclusive (although not concise) review of the different facets of our holiday would be to allow you to experience it second-hand through my retelling, in the order that it originally occurred.
-------------------------------------------------
As my family is currently located in a few different locations within Saskatchewan, we chose a central location to depart, Regina. We arrived at the airport at 7am, with three hours to spare until our flight. As the long-term parking lot was full, we were forced to park in the overflow parking - a telling sign for the rest of the day. We wore an odd assortment of hats and layers, and protected ourselves against the brisk air while hurriedly rushing down the sidewalk to the airport.
When we arrived at the check-in counter, the line was already surpassing the queue.
I won't bore you with the pre-flight details - we had a 30 minute delay, we ate, we waited, we boarded the plane.
Upon the plane we were treated with mimosas and lunch - the flight was uneventful, and as relaxing as flying can be. We flew
Air Transat
, and while we did appreciate the food/drink, the plane was very crowded and there was no entertainment onboard. All the same, we were on our way to Mexico, where there would be peace, relaxation, and no worries.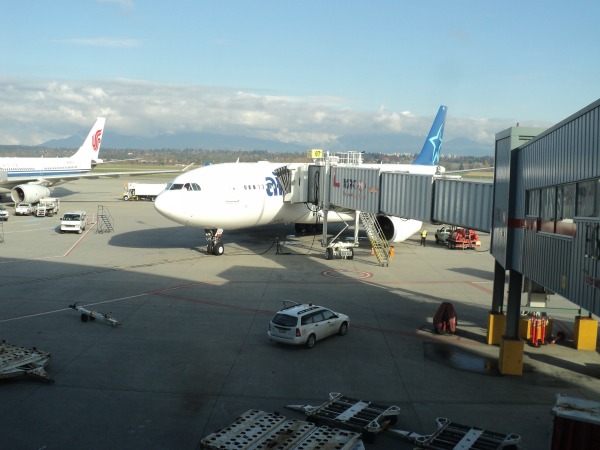 Photo stolen from Puerto Vallarta Airport Homepage :)
That impression was shattered when we got to the Puerto Vallarta airport.
First, we got loaded onto a couple of standing buses to make the trip from our plane to the customs area of the airport. I took this opportunity to change out of my shoes and into some sandals, as well as put away my sweater. Finally - heat. But then...
People. People, people and more people. The customs line-ups were amazingly long - every queue line was full and people were lined up all the way down the hall - seemingly for miles.
Finally, we 'escaped' customs, and proceeded to the red-light/green-light game. I call it this, because every family that goes through must press the button. If you get a green light, you are good to continue through. If you get a red light, you and your baggage gets searched. Luckily, we all got green lights.
The next obstacle was getting through the timeshare hallway. To get to the bus to go to the resorts, you need to go through a hallway full of men and women in white uniforms, who look like they (may?) be airport employees. They are yelling at you to stop; I even saw one of them physically grab another tourist's shirt to pull him aside.
Successfully through this obstacle, we were able to find the appropriate bus bringing us to the appropriate resort, and we could breath.
Upon arriving our luggage was all unloaded and set aside, and then we lined up alphabetically according to last name for check-in. (Spoiler alert: P-Z is all in one lineup) At least we were given some fruity slush drinks to enjoy while waiting.
We had a bit of confusion as they had reserved us seats in an a-la-carte that we couldn't possibly make - we needed to find our rooms, then buy a key to the safe in the room, then actually put our things in the safe before supper - it was already 5pm and we were booked for 6pm. That said, the checkin process went relatively smoothly and we were pleased to find ourselves in Block 6 (the new building and quiet) and in rooms very close to one another.
We ended up going to the Jap-Jap (Asian) a-la-carte for supper. It was okay, but wasn't the best food that we had on the resort. I really enjoyed the hot and sour soup however.
We were also served a stir-fry beef, stir-fry vegetables, and noodles - much like you would find at a Chinese food restaurant in Canada.
After that, we spent some time getting oriented with the resort. We attempted going for a walk on the beach, but Gilles managed to stub his toe on an unknown object (later determined to be a lone brick hiding under the sand) and started to bleed everywhere - definitely not the best beginning to his holiday! We cleaned up his wound, and then went to see the night show.
The show that night was great - very professional dancers, with a fun "Michael Jackson" appearance at the end.
We went to bed immediately after the show - we were all exhausted from a long-days journey, and were looking forward to spending the next day on the beach!